Buying an Apartment in Dubai : Those who are looking to live or invest in a vibrant area with low taxes should consider buying an apartment in Dubai. Home to people from different countries and cultures all around the world, Dubai is among the world's most exciting cities.
Dubai is welcoming to foreigners who want to invest or live in the country. Dubai allows foreigners to own land and property.
You can even get a United Arab Emirates long-term residency visa by investing in Dubai's real estate market.
In this article, we're going to go over how foreign property ownership works, how much buying an apartment in Dubai costs, what fees and taxes you can expect to pay, along with the best neighborhoods in Dubai.
Foreign Property Ownership in Dubai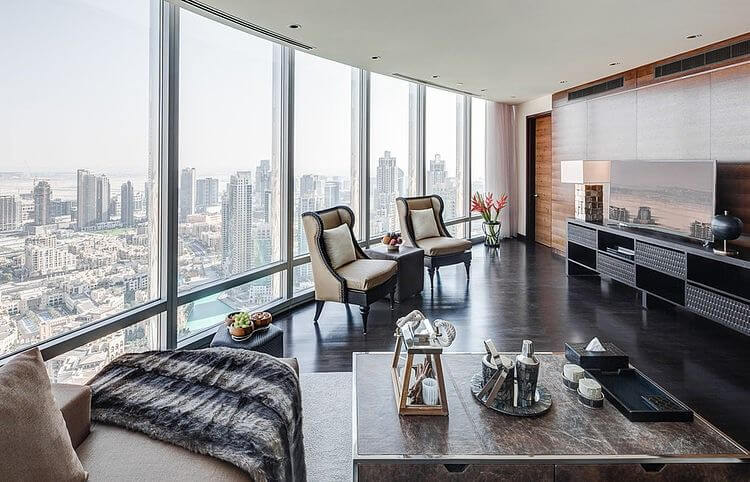 Branded residences in Dubai sell at a premium. For example, the Burj Khalifa hosts two separate residential projects – the Armani Residence, and the non-branded Burj Khalifa Residences. Despite being on a lower floor, the Armani Residences sell for 50% more.
How Much Does a Dubai Apartment Cost?
Buying an Apartment in Dubai : Compared to other upcoming cities in the Middle East and Asia, Dubai's housing prices rank around the middle of the scale, costing about US$6,000 per square meter on average.
That isn't so bad, considering the United Arab Emirates is the world's seventh richest country by GDP per capita.
Buying  an apartment in Dubai will cost you US$3,000 per square meter on the lower-end, while luxury homes cost closer to US$8,000 per square meter. Branded apartments like the Armani Residences are going to sell at the higher side of that range.
Costs of buying real estate in Dubai will also change depending on which area the property is located in, the development's age, and its design specifications.
Downtown Dubai
Many expats here work in offices located in Downtown Dubai – the city's primary central business district (CBD). Therefore, it makes perfect sense that the neighborhood is one of the most popular areas to buy an apartment in.
Because Downtown Dubai is such a popular area, apartments and condos here are noticeably more expensive per square meter than property in most other parts of the city.
Downtown Dubai is busy with plenty to do, whether you're a resident or tourist. The tallest building in the world, the Burj Khalifa, can be found here. This is also where you'll find many of the city's famous tourist attractions and the Dubai Mall.
Dubai Marina
Ten kilometers south of downtown is the Dubai Marina. Buying a condo in Dubai Marina has become trendy in recent years, coinciding with the area's rapid development over the past decade.
The Dubai Marina is the focal point of New Dubai – a leisurely area with many of the same amenities that Downtown Dubai has to offer. The main difference is that Dubai Marina is less focused on business than downtown.
The Dubai Marina has great places to shop and dine. The Marina has easy access to the beach and many different attractions. You can easily walk from your condo in the Dubai Marina to the JBR Public Beach.
Apartments in the Dubai Marina area start as low as AED 600,000 for a studio apartment. Two-bedroom apartments in the Marina neighborhoods cost over AED 2 million on average.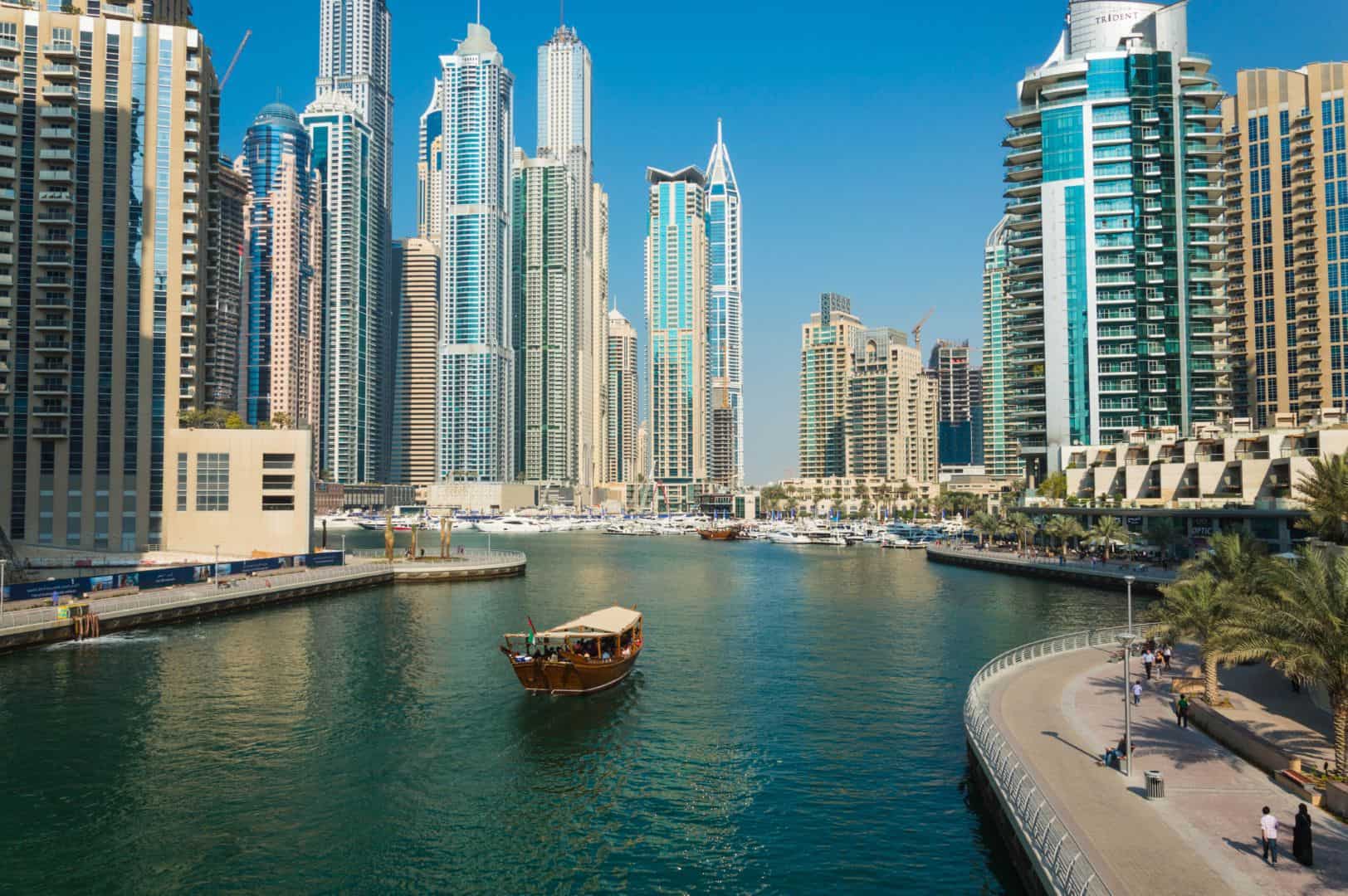 The area surrounding Dubai Marina is now home to several of the most expensive condo projects in the whole city. Palms Jumeirah, Emirates Hills, and The Springs are among the Marina neighborhood's most famous developments.
Mirdif
Mirdif is a much more quiet residential area in Dubai. It's located farther away from the CBD but is closer to the airport.
Because of its location near the airport, Mirdiff is a great place to buy a condo in Dubai if you are going to be traveling in and out of the city on a regular basis.
The neighborhood is located within driving distance from many of Dubai's export and industrial business areas, making it a great area to buy a Dubai condo for anyone working in one of Mirdif's industrial hubs.
Buying a condo in Dubai's Mirdif area is much cheaper than purchasing land in Downtown Dubai. Properties in Mirdif can range from around AED 560,000 for a studio apartment to over AED 2,000,000 for a three-bedroom apartment.
Mirdif is also a great location for families as it is a residential area and is not a super busy touristy part of the city. Overall, it's a very peaceful area to purchase a condo in Dubai.
Fees and Property Taxes in Dubai
The United Arab Emirates is a well-known tax haven. This is one of the reasons it is such an attractive destination for expats.
Dubai in particular has no annual property taxes, which is one great reason to buy a condo here.
There are a few fees or taxes that you will have to pay when first purchasing or selling a property. Dubai has a 4% development contract fee. This is a one-time fee charged when land is sold or purchased in Dubai. The fee is paid and split evenly by the seller and buyer.
According to tenancy laws in Dubai, taxes, government fees, and property charges are supposed to be paid by the tenant.
Other property fees in Dubai include common area or homeowner association fees. The exact amount you'll have to pay will depend on where your Dubai condo is located.
The fee amount is also going to be determined by the size of the unit and the standards of the building.
More expensive luxury apartments, which often come alongside staff and multiple facilities, will charge higher maintenance fees in order to keep the building in good condition.
Is Buying a Condo in Dubai A Good Investment?
Looking at Dubai's property market within a international context, prices seem reasonable next to other major financial hubs.
The same amount of money here buys you double the space it would in London or New York, and triple the size of Singapore and Hong Kong.
With that said, Dubai's overall economy remains volatile compared to other top banking centers. Despite recent efforts to diversify its economy away from commodities, a high proportion of the city's jobs still rely on oil prices – whether directly or indirectly.
Dubai suffered greatly during the 2008 Financial Crisis, and property values have stayed rather flat since then. This isn't a real estate market that will diversify your portfolio away from the global economy's overall performance.
Meanwhile, Dubai's occupancy rates are perpetually low and oversupply issues persist. There aren't any signs of these problems improving amid a seemingly-never-ending construction boom.
Here's a positive note though: you won't pay any annual property taxes or income tax in Dubai. You also have the opportunity to turn your investment into a residence permit, making it a great place to buy a condo as a second home.
Furthermore, condos in Dubai are generally built to a high-standard and are architecturally impressive. A few of the world's largest and most prominent developers are based in Dubai. You won't have the same quality issues as you might elsewhere in the world.
Consider looking elsewhere if you're purely seeking rental yields and appreciation. Finding a tenant isn't always easy, and property values in Dubai haven't seen strong appreciation in over a decade.
If you're making a lifestyle purchase and want long-term residency as part of a full-package though, buying a condo in Dubai makes perfect sense.