Binghatti unveils new exclusive Bugatti Residences for wealthy buyers.
The ultra-luxurious residences in Dubai is nothing less than a "megaproject," Binghatti chief tells Arabian Business.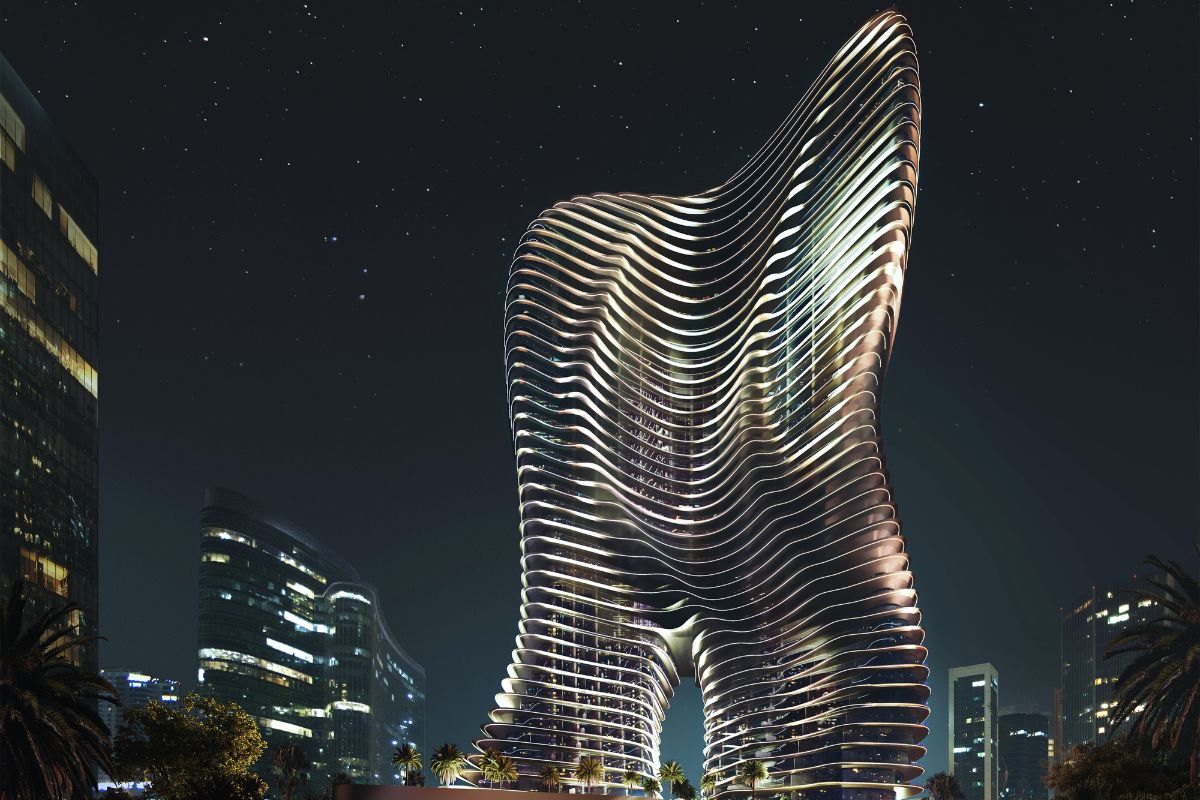 Bugatti, the renowned French luxury car brand, has joined forces with Binghatti, a prominent UAE real estate developer, to unveil a vision that will redefine luxurious living: the world's inaugural Bugatti Residences.
This ground-breaking project, revealed on Wednesday, promises to introduce a level of extravagance and sophistication that has never been seen before.
However, the residences are aimed at luring "ultra-high-net-worth individuals," Muhammed Binghatti, the visionary chief of Binghatti, said in an exclusive interview with Arabian Business.
With 182 units spread across an impressive 42 floors, the Bugatti Residences by Binghatti will offer an exquisite selection of two-, three-, and four-bedroom penthouses, each adorned with names that evoke the allure of iconic destinations such as Cannes, St Tropez, and Monaco. The residences' contours on its exteriors are also inspired by ripples on the beaches of the French Riviera, as well as on the dunes of Dubai.
Bugatti Residences' units will feature 171 Riviera Mansions and 11 Sky Mansion Penthouses. Residents can also take advantage of opulent features such as a Riviera-inspired beach, a secluded pool, a rejuvenating jacuzzi spa, an exclusive fitness club, an exquisite chef's table, personalized valet services, a private members club, and two state-of-the-art car lifts connecting the garage to the penthouse.
Although an ode to the French Riviera, the residences will be nestled at the "heart of Dubai," which comprises of the Downtown Dubai and Business Bay districts.
Moreover, each meticulously crafted unit within this architectural marvel promises an unparalleled experience, featuring an exclusive swimming pool and other features that beckons residents to indulge in leisurely moments of tranquility.
Further enhancing the allure of these extraordinary abodes, Rimac revealed that the residences will boast bespoke Bugatti furniture, exuding the brand's distinctive design elements, including the iconic "C-line" for furniture and the exquisite "horseshoe" motif, among others.
Binghatti also described this ambitious undertaking as nothing short of a "megaproject."
Binghatti partners with Bugatti to 'level up'
"We were so keen to do this partnership with Bugatti is because Bugatti has been dominating the automotive industry for over a century. And it's been dominating it because of its consistent conceiving of the incomparable and I think that's very synonymous with our vision as a developer," Binghatti said.
Binghatti further explained that ever since the real estate developer's inception, the ultimate goal has been to "defy the conventional." He added that this new step played a key role in helping Bugatti "level up" to work with global brands such as Bugatti.
Bugatti cars have earned a reputation as some of the priciest vehicles globally, ranging from $1.9 million to $12 million. Expanding their realm beyond the automotive industry, the company is now extending this luxurious concept to real estate, offering individuals the opportunity to immerse themselves in opulence on a daily basis.
Radiating with unwavering enthusiasm, Bugatti Rimac's innovative chief executive officer, Mate Rimac, proclaimed this extraordinary partnership as nothing short of "special."
In a testament to the brand's steadfast commitment, Rimac emphasised that this landmark alliance represents an unprecedented stride towards crafting an elevated realm of luxury, surpassing the conventional boundaries of customer experience to embrace the very essence of a refined lifestyle.
Dubai 'a clear choice' for Bugatti Rimac
For Bugatti Rimac – a joint venture of car brands Bugatti and Rimac Automobili– this is their first real estate project, and Rimac believes Dubai is the "best location" for its success.
"Bugatti is one of the strongest brands in the world – most recognisable despite producing very limited number of products. And it's not only about technical things like performance, speed, and so on, which is all very important. But in the end, it's about the feeling, right? It is the feeling of, 'I have the ultimate car, I have the best car in the world,' and that is a feeling that you can convey not only in the car, but also on a product. We have done that through different kind of products before, and now we want to do that through real estate," he told Arabian Business.
He explained that choosing Dubai meant "having the best" and partnering with Binghatti meant complete understanding of what Bugatti wanted to achieve.
"We want to have absolute perfection, which meant translating the feeling of a Bugatti in real estate project, but also the feeling of French luxury. And also, one thing we want to achieve, what's very important for us, is the aspect of the French Riviera – that's something very special – the coastline in the south of France," he said.
Bugatti Residences by Binghatti is scheduled for completion within three to three and a half years, Binghatti said, however, he added it could be completed ahead of time given Binghatti's "solid track record of beating their timelines."
"Of course, you know, we will target to beat this timeline. But for now, the timeline is three to three and a half years," he said.
Targeting ultra-high-net-worth individuals
As mentioned, the residences are targeted at ultra-high-net-worth individuals in the country, according to Binghatti.
Dubai saw a 62 percent increase in high-net-worth individuals (HNWIs) from 2012 to 2022, and is on the way to place Dubai's real estate market on a "trajectory" to achieve AED300 billion in sales this year, as per a recent prediction by real estate agency Unique Properties.
Dubai, which is currently home to over 68,400 HNWIs, has also seen an influx in buyers as many increasingly relocate to the emirate. Russians have also reportedly overtaken Europeans as the biggest property market buyers.
The growth is mainly fueled by the emirate's handling of the pandemic, its convenient geographic location, tax advantages, favorable policies, among other benefits. Due to all these factors, a 46% growth has been forecast for the real estate market in Dubai in 2023.
"We are targeting ultra-high-net-worth individuals from all across the world," explained Binghatti.
"I think one thing that is exciting to us here to explore it is that, as Mate rightfully said, is to open up the Bugatti experience to a broader audience. And as time goes by, the wealthy segment across the world is continuing to grow."
Binghatti also explained that this segment is looking for different products and different ways to stand out and provide something "unprecedented in the world of real estate."
"Obviously, that will be one segment that we will be targeting, but also a broader audience from the real estate background. We are also targeting people who have never bought real estate before but would like to own this as a trophy asset, especially as it is a trophy asset," Binghatti stressed, adding "it is not something that you buy to flip around or anything, it is something that you buy to own and be proud of, for eternity."